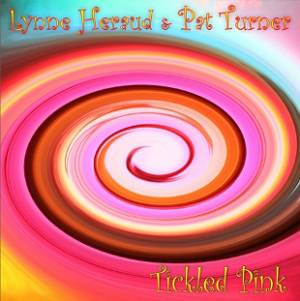 This is Lynne and Pat Turner's fourth album. On it they demonstrate that they are two ladies who are game for a laugh and have lost none of their panache for confronting, head-on, the experiences that life can bring and perform them in a spectrum of musical entertainment. They both sing well and sound quite good singing in harmony unaccompanied. If I were to say, "This is a girlie album" or "One for the girls" my wife would probably start preparing the poisoned mushrooms! Experience has taught me saying a thing like this is much riskier than French kissing Piranha fish.
But with emotive songs like 'Oxfam Girls' a song that takes the rip out of ladies, (several of some I know) who take delight in rooting out charity shops in other towns. 'Distant Rumblings' a song about ladies with un-controllable flatulence! 'The Smear Test'- you don't get many songs about the cervical cancer test that women have to undergo. Even 'In Praise of the Menopause' (what's that?) a song that leaves nothing to the imagination, as does 'IMIMB' – stands for "I must Improve my bust" I think you will understand. Lynne and Pat write all of these, and I have to say they are dam good. It's worth buying the album for these alone!
I am waiting now for a song about men who have had a vasectomy!
It's not all comedy though, indeed the album starts with Child ballad number 20, 'Bonny George Campbell' (traditional) and has a good selection of other traditional songs such as 'Green Grow the Laurel', Rosemary Lane' and 'Wife of Usher's Well' to name a few. Worthy of an extra mention, Pat Turner pens one of best songs on the album. It's called 'Back in the Game' it has a nice tune and good lyrics.  It's a love song that, strangely, reminded me of a song by Buddy Holly, 'Learning the Game'.
Overall I liked the album very much, and consider it well worth having in any body's collection, be you a traditional, or contemporary fan.  They have a website and you can buy the album online here: http://www.lynneandpat.co.uk/albums.htm
(Wild Goose Records, 2010)