Barely into the third month of 2011, I'm wondering if I'll read anything else this year as good as Desert of Souls. In it, Howard Jones proves himself a rare master of the storyteller's art, a talent uncommon even amongst successful novelists. He's written a pure, unapologetic, classically-structured adventure tale. In the vein of the Arabian classic, One Thousand and One Nights, Jones invites us into a fictional ninth-century Baghdad: one of mysterious figures, magical artifacts, frightening djinn, and lost cities damned by God.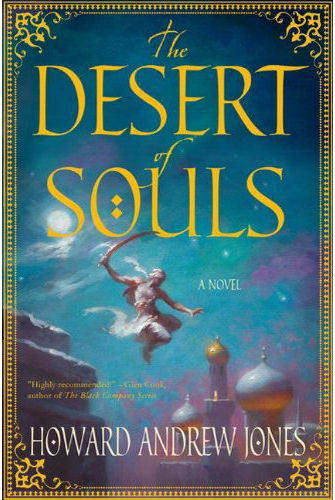 The story is narrated by Asim el Abbas, captain of the guards to Jaffar, son of the caliph's vizier. Along with a scholar of the same household, Dabir ibn Khalil, he chances upon an attack in progress. Driving off the attackers, Asim and Dabir prevent them from securing their prize, a mysterious golden door pull, but cannot save their victim. With his last breath he charges them to protect the item, for it is more than it appears. The subsequent theft of the door pull by mysterious means, and an investigation that raises more questions than it answers conspire to drag our heroes into an adventure wherein it seems much more is at stake than a little missing gold.
Brilliant and immediate characterization, not only for Asim, the narrator, but Dabir, as well, perfect pacing, and a truly intriguing mystery draw the reader deeply into the world of the story. At one point, a story within the story allows Jones to comment on the act of storytelling itself. The novel is polished to a mirror sheen, but it has that something extra that takes a story beyond technical excellence and into the human heart.
Jones is an editor at Black Gate, a Harold Lamb scholar, and has written short stories in the world of his novel for many years. The Desert of Souls doesn't read like a first novel, and perhaps that's why.
If you have any interest in historical fiction, fantasy adventure, Robert Howard, Harold Lamb, or the One Thousand and One Nights, you will love this book. If you're not sure about any of those things, it's still very possible that you may love this book. Stories that stay with me as this one has don't come around very often, and I'm inclined to spread the word when they do.
Read this book.
(Thomas Dunne Books, 2011)